We are now accepting applications for the 2018 Raymond E. Britcher Scholarship. Download the application here.
Free Nightly Entertainment!
Wednesday is
PinnacleHealth Night!
Thanks to the support of Pinnacle Health, attendees can enjoy
FREE Parking and Rides ALL NIGHT!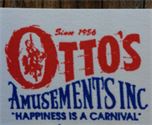 Otto's Amusements, Pottsville PA, long-time partner of the Perry County Fair, will be providing amusements and rides for 2017!